Please note that the browser you are using is either outdated or not supported by this website. For a better browsing experience, try one of the following:
This Week's Tasting
Spring into Summer - Two Whites, Two Rosés, Two Reds
May 16, 2018
Muscadet is not just for seafood anymore. This classic white was historically (in)famous as a tart little wine that went well with the Bay of Biscay oysters near which the grapes are grown. Better growers and better growings mean that there are now all sorts of variations these days, from the deep and age worthy to the young and fresh.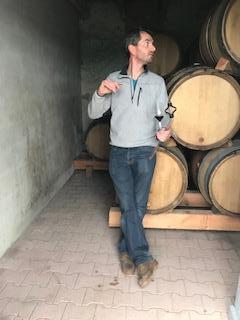 Antoine Sunier Emmanuelle Baude
&nbsp
Tonight's falls into the latter category, fresh and fruity enough to drink on its own but with enough liveliness to still pair well with seafood. Great price too, one not likely to be repeated given the recent rise of the euro.
We had a very pleasant visit last month from Emmanuelle Baude the proprietress of the newly re-vivified Tour Campanets Provencal estate. She farms organically, then minimally vinifies to make wines of better than usual clarity and expression.
We'll show two of her wines, a white blended from two thirds Vermentino and a third Ugni Blanc crafted into a lively fresh wine of passionfruit and lemon spice that will enliven any fish or lighter meat dish.
Her 2017 Rose, is of greater structure and intensity, but with the same finely produced elegance. Like a number of other Provençals, she uses Vermentino to give the wines zip and spice, but in hers the spice is a better part of the wine as the Vernentino is a better part of the whole.
Raymond de Villeneuve is one of Provencal's master winemakers. Michel Bettane called him "incontestably, one of the great hopes of the Cotes de Provence...the wines perfectly combine ample and intense fruit with a rich and silky body. The wines of Roquefort possess a hedonistic character that will make you immediately rejoice."
His organic and biodynamic Ch de Roquefort Cotes de Provence Corail has perpetually been our customers' most popular rose over the last several years. The 2017has just arrived. It is the best yet. As succulently ripe as previous vintages, it is very rich and shows some of the provencal garrigue spice, so enticing that one sip demands another. If you have no other rose this season, you want this one.
Roquefort Roses age well. We have a bit of the 2016 left also. It is not so exotically spiced as the 2017, but is still a fleshy fruit pleasure. Only $14.99 while supply lasts
Two Reds
Linsey writes,
High in the Fronton appellation lies a small estate run by 3 super-charged young ladies making impeccable wines - all bio dynamically farmed. They met and formed a bond at another winery. In 2004 they found a bunch of old neglected Negrette vines. After years of nurturing them back to productivity, they finally saw the fruits of their labor, and we are thankful!
Cuvee Jeanne, named after a friend and painter whose artwork adorns the bottles, is 100% Negrette. It is aged for a good amount of time in old barrel - the 2013 is their current release - no fining, no filtering and minimal sulfur at bottling. It is bounding with juicy red fruit, aromatics, violets, and herbs with a touch of black pepper. Lighter tannins make this the perfect chillable red for the warmer days and nights ahead!
We can't get enough of Antoine Sunier's wines. We blew through his Regnie and are now on to his Morgon. Why do we love him? Not only is he utterly charming, but his wines sing of the old vines of Beaujolais. He leases most of his vines which is passed on to you in a brilliant value for old-vine organically-farmed Gamay. Antoine's wines walk a line of power without weight, grace and elegance without pretension. They are beautifully humble and perfectly Beaujolais. This 2016 Morgon ferments at low temperatures with indigenous yeasts, whole-cluster for 8-15 days in tank. Aged 8 months on the lees in 80% neutral burgundy barrels and 20% epoxy tanks, no fining, no filtering and minimal sulfur at bottling.
White
2016 Gadais Muscadet Sevre et Maine Sur Lie; Aroma: fresh flinty, dusty herbal firm; Mouth: light clean bright acid fruity, spicy, clean , green grape, nicely lively, good length; Very Good Plus 13.99; Mixed Case, 12.59; Case, 11.89
2017 Tour Campanets Coteaux d'Aix Bois des Fees Blanc- Organic; Aroma: fresh spicy angular acid, passionfruit, & lemon, Nicely dense, and refreshingly edgy ; Mouth: fleshy bright acid, clean rather firm, fullish, some depth, layered with back taste, clean acid; Very Good Plus 21; Mixed Case, 18.9; Case, 17.85
Rose
2017 Ch de Roquefort Cotes de Provence Corail- Organic, Biodynamic; Aroma: bright rather clean pretty, fine acid, garrigue notes lively & spicy; Mouth: bright spicy rather clean, bright acid, clean rather long spicy; Very Good Plus 16.99; Mixed Case, 15.29; Case, 14.44
2017 Tour Campanets Coteaux d'Aix Rose - Organic; Color: very pale; Aroma: very pretty, very rich, spicy forward, rather dense; Mouth: spicy sweet very tight clean nice grip, very pretty, mineral, nice grip on the finish; Very Good Plus 19.99; Mixed Case, 17.99; Case, 16.99
Red
2016 Antoine Sunier Morgon; Aroma: Rather fine, very pretty rather tight, clean, surpisingly softer than his Regnie; Mouth: Fresh very pretty rounded softer, delicate for a Morgon grains de bois; Very Good Plus 29.99; Mixed Case, 26.99; Case, 25.49
2013 Ch. Flotis Cuvee Jeanne juicy red fruit, aromatics, violets, and herbs with a touch of black pepper. Very Good Plus 18.99; Mixed Case, 17.09; Case, 16.14
May Springtime Case: Special, two each of the above wines - $171
Instore only May Springtime Pack: Special, one each of the above wines - $90
&nbsp
Order by phone at 617.367.8605, or reserve here: order@federalwine.com
&nbsp
Please pass this on to any friends who are wine enthusiasts!
&nbsp
- Len Rothenberg