Please note that the browser you are using is either outdated or not supported by this website. For a better browsing experience, try one of the following:
This Week's THURSDAY Tasting
Three Craftsmen of Cru Beaujolais
March 28, 2019
A special tasting event of ten sexy, lithe and lively Beaujolais crus.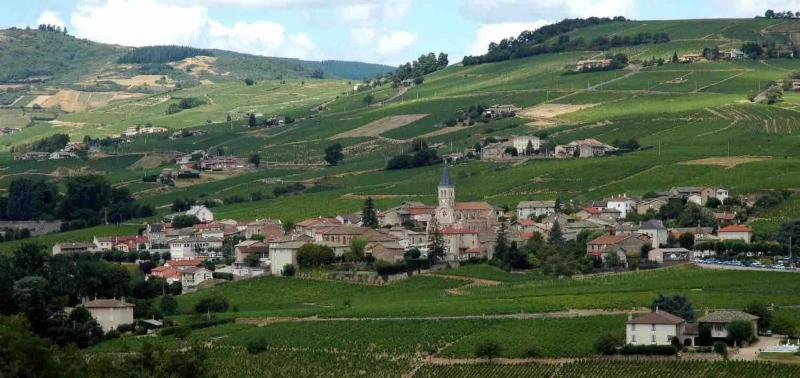 &nbsp
"I make my vinifications with ice as much as fire, but I bend my method to each cuvee. Each is a blank canvas on which I compose my painting or my music. When I vinify I am outside time." -Raphael Chopin
Spring will come at some point anyway. It is the season when we look for somewhat lighter reds, but wines of some sophistication. Burgundy has become the province for the rich and those rabid for elegant Pinot Noir. But the rest of us have an alternative, the sexy, lithe and lively ten Beaujolais crus. Not the thin soda-pop that was once ubiquitous as Nouveau, or even the light winsome sprites labeled Beaujolais or Beaujolais Villages, but at their best smooth and sophisticated wines whose labels proclaim the names of their individual communes. They can be as intriguingly different from each other as Gevrey is from Vosne or Pommard, made with the spirit of Chopin's quote.
The wines come from the excellent 2015 t0 2018 vintages. This will be the first chance to taste some the much praised upcoming 2018s.
Each April more than a hundred Beaujolais artisans gather for a fair called Bien Boire en Beaujolais (Drink Well in Beaujolais) Raphael Chopin'swere one of the stars of last year's event for me. Most of his 5 ha are in Regnie. His 'young' vines are 30 years old, the oldest over 100. He has been called part of the new wave in Beaujolais, making wines of enchanting fruit and style.
I have followed Eric Janin'swines for over a decade through three importers,.A reserved man, he is a classicist in his winemaking. His wines are organic, with no pesticides or herbicides, all indigenous yeast, and minimal sulfur. Mostly in Moulina a Vent, they are beautifully structured to drink soon or age for a few years.
&nbsp
Maxime Perrachonis is the 6th generation of a 26 ha estate going back to 1877. Based in Julienas, they work sustainably in 6 crus and moving a more organic approach in the vineyards. Their traditionally styled wines have been well received in France,. The "Blue Rock" Julienasyou will taste was a coup de coeur, a heart throb in the Revue du Vin de France.
&nbsp
We will taste all the wines below. Those in bold(with my tasting notes) are in stock. Others are in preview, available by special order only. Maxime Perrachon's wines will arrive in about two weeks. Others will come in a month to six weeks.
&nbsp
Paul Janin & Fils
2017 Beaujolais-Villages Blanc Argiles Case, 199 (16.58); Half Case, 109 (18.17)
2017 Brouilly Case, 214 (17.83); Half Case, 117 (19.5)
2017 Moulin A Vent Les Vignes du Tremblay - Organic; Aroma: bright clean steely, pretty rather juicy forward, blackberry; Mouth: clean dusty mineral, bright acid, fleshy and broad, fine tannins; Very Good Plus 23.99; Mixed Case, 21.59; Case, 20.39
Raphael Chopin
2016 Regnie Ronze ; Aroma: Deep rather full, light on its feet herbal mineral; Mouth: Light clean racy very pure elegant tight acid long; Very Good Plus21; Mixed Case, 18.9; Case, 17.85
2015 Regnie Caprice Aroma: Deep rather oaky dense rich; Mouth: Bright rather oaky clean dense, spicy acid; Very Good Plus24.99; Mixed Case, 22.49; Case, 21.24
2018 Regnie Ronze Case, 204 (17); Half Case, 111 (18.5)
2018 Regnie Les Braves Case, 240 (20); Half Case, 129 (21.5)
Maxime Perrachon
2016 Julienas Roche Bleue; Color: medium red black; Aroma: dullish, lightly fragrant, lightly fragrant lightly plummy; Mouth: clean rounded sweet acid fruit, leathery plum, , bright finish; Very Good Plus17.99; Mixed Case, 16.19; Case, 15.29
2017 Julienas Les Vignes Centenaires Case, 214 (17.83); Half Case, 117 (19.5)
2017 Morgon Corcelette Case, 183 (15.25); Half Case, 101 (16.83)
2016 Morgon Cote du Py Case, 204 (17); Half Case, 111 (18.5)
3-28 Beaujolais Case: Special, three each of the in stock wines - $234
or
mix any 6- 11 in stock wines for 10% off
any 12 or more for 15% off
Order by phone at 617.367.8605, or reserve here: order@federalwine.com
Please pass this on to any friends who are wine enthusiasts!
&nbsp
- Len Rothenberg