Please note that the browser you are using is either outdated or not supported by this website. For a better browsing experience, try one of the following:
This Week's Tasting
Southern Rhone Vintages
February 1, 2017
This week a selection of richer, heavier wines from some fine estates in the southern Rhone.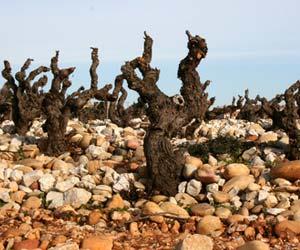 Chateauneuf old vines in Cailloux
White
Chateauneuf's 250 year-old Ch. Vaudieu is the flagship winery of the Meffre family. As usual in Chateauneuf, the whites lie in the shadow of the reds. This why we were able to get a wine that Jeb Dunnock recommended $55 for only $39, 33 by the case.
Jeb Dunnock in the Wine Advocate "A year in, year out favorite, ... made from 75% Grenache Blanc and 25% Roussanne, with the Roussanne and some of the Grenache aged 8-10 months in smaller barrels. Giving up fabulous notes of white flowers, vanilla bean, floor polish, candied lemons and tropical fruits, this beauty offers full-bodied richness, beautiful purity and classy finish. It's another knockout white from this producer at the top of its game."
2013 Ch Vaudieu Chateauneuf du Pape Blanc Very Good Plus $39; Mixed Case, 35.1; Case, 33.15
Red
The 3 Celliers, two brothers and a sister, are from the family that owned Domaine St. Benoit , which had devoted following among our Chateauneuf-loving customers through the early part of the last decade. They set up a new winery with their inherited vineyards. Not heavy, but gorgeously fruity the 2014 Domaine des 3 Celliers Chateauneuf du Pape shows again the quality of the vintage, as well as that of their winemaking skills and vineyards. With Grenache the plurality and five other grapes, the wine's ripe cherry fruit is rather like young fresh Pinot, and its 29.99 price makes it a bargain not to be missed in the current pricing of other chateauneufs.
2014 3 Celliers Chateauneuf du Pape Alchimie; Aroma: bright juicy, rather, spicy, clean, lifted, fresh , ; Mouth: smooth rather herbal clean, bright acid, medium bodied, good length, fruity; Very Good Plus ; 29.99; Mixed Case, 26.99; Case, 25.49
Frederic and Francois Alary have made their domaine in Cairanne, a major Cotes du Rhone Villages estate with meticulous work and respect of the vine, limited yield, organic viticulture, harvesting at optimal ripeness. The 2012 Oratoire St. Martin Cairannne Reserve des Seigneurs comes from seventy-year old vines, the majority Mourvedre with Grenache and Syrah. It is dense and spicy very concentrated and taut. Give it some time to breathe for best drinking.
2012 Oratoire St. Martin Cairannne Reserve des Seigneurs; Color: light herbal; Aroma: dark licorice, rich soft, ; Mouth: juicy forward fresh acid, very lively, nice fruit good length; Very Good Plus 21.99; Mixed Case, 19.79; Case, 18.69
Gigondas wines are generally fuller and spicier, because of its higher elevation and often greater amount of Mourvedre in the blend. Raspail-Ay Their 2012 was lovely, full rich and heady with the creamy very full and ample in the mouth. The newly arrived 2014 vintage is just as good. It is younger and would like some exposure to air before drinking, not because it's harsh but to unlock its heady flavors.
2014 Raspail-Ay Gigondas; Color: very dark heady very dense; Aroma: very heady raher full, heady spicy rather rich ; Mouth: smooth spicy, rather juicy smooth thick, warm, wild plum, lingering; Very Good (-Excellent) 39; Mixed Case, 35.10; Case, 33.15
The family-run Domaine la Barroche benefits from vineyards that represent the range of soils of Chateauneuf, from sand to sandstone to the rounded cailloux that many think to be classic. The wines are suave and sophisticated, especially in the more structured 2013 vintage. It is more poised than powerful, elegant for the appelation
2013 Domaine La Barroche Chateauneuf du Pape; Color: very dark opaque; Aroma: bright rather clean silky, fresh light clean, , fresh; Mouth: smooth rather sweet, clean bright acid, vry ripe, sweet finish lighter, very smooth texture; Very Good - Excellent 56; Mixed Case, 50.4; Case, 47.60
Clos St. Jean is the opposite; big, raw boned bursting with assertive spicy acidity., especially with this old vine cuvee. I liked it on first taste. So did Jeb Dunnock in in the Wine Advocate: "a gorgeous drinker that gives up lots of black cherry, lavender, peppery spice and Provençal notes to go with a medium to full-bodied, elegant and layered feel on the palate. Like all of this estate's wines, the tannin quality is top notch and while not a massive wine, it excels on its silky texture, beautiful fruit and outstanding finish."
2013 Clos St. Jean Chateauneuf-du-Pape VV; Aroma: Light clean act, firm rather herbal; Mouth: Juicy ripe sweet, fruit light clean, very vibrant & intense; Very Very Good Plus 56; Mixed Case, 50.4; Case, 47.60
&nbsp
2-1 Rhone Case: Special, two each of the above wines - $409
2-1 Rhone Pack: Special, one each of the above wines - $216
&nbsp
Order by phone at 617.367.8605, or reserve here: Order@federalwine.com
- Len Rothenberg
(c) Federal Wine and Spirits Inc. 2017