Please note that the browser you are using is either outdated or not supported by this website. For a better browsing experience, try one of the following:
This Week's Tasting
New Italians
June 21, 2017
For tonight's tasting we will be showing some new wines from Italy. These are all from properties I visited on the last trip over and range from a fun summer white to an amazing Sangiovese from Romagna.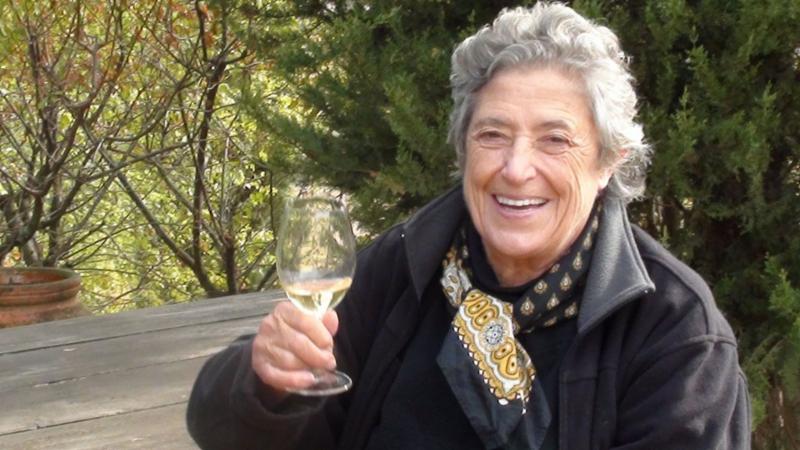 Elisabetta at Montenidoli
We will begin with the 2015 Gianni Gagliardo Favorita Fallegro. This is the fun summer white from Piedmont. Favorita is actually a special clone of Vermentino that came over from Liguria. This is light and refreshing,  perfect with aperitivo. Stefano Gagliardo, who also makes great Barolo, is particularly pleased with the style of this wine. The second white is more intense. The 2014 Montenidoli Vernacia di San Gigminano Fiore comes from a property run by Elisabetta Fagiuoli. She is amazing and expresses Joy, eloquence, warmth, and elegance all at the same time. She also makes amazing wine. This is a classic expression of Vernaccia made only from the first pressing of the grapes and aged on the lees.
The first two reds are both from Piedmont. The 2012 Giacomo Vico Langhe Rosso is a blend of Nebbiolo and Barbera. Giacono Vico wines date back to the 19th century. Today the property is run by Anita Vico and her son Alessandro. The winery is in the Roero just outside of Canale and is entirely solar powered. This wine is ready to drink and has terrific balance. A little drive away and we arrive in Dogliani, home to hazelnut plantations and the best Dolcetto in the world. The 2015 Revelli Dogliani Superiore San Matteo is one of those. Eraldo Revelli and his wife Luigina worked over the years to make their property one of the best in the region. Daughter Claudia is now taking them to a new level. This wine is their oldest and best single cru. It is complex and capable of long life.
Next we will go back to Tuscany and the beautiful village of Montepulciano. The 2013 Dei Vino Nobile de Montepulciano is primarily Sangiovese with some Canaiolo. The winery is constructed of marble and built partially underground. The power here is also solar. Alibrando Dei founded the winery back in the sixties and today it is run by his granddaughter Caterina. Last, we will cross the Tuscan border with Romagna and open the 2008 Castelluccio Rocco dei Ciliegi. This is a single vineyard and 100% Sangiovese. The owner and winemaker is Vittorio Fiore. During my visit we had this wine with lunch and I immediately asked if he had any extra hiding around. He said not only could he give me seven cases but he was shipping wine to America the next day. The wine arrived today. This wine has a ton of personality.
2015 Gianni Gagliardo Favorita Fallegro:  Flowers, pear and a hint of sea salt. Pleasantly fresh.   Very Good Plus  18.99/bottle 17.09/mixed case 16.14/case
2014 Montenindoli Vernaccia di San Gimignano Fiore:  Aromas of ripe fruit, flowers, tea, and saffron. Richly flavored and refined. Will also age well.  Very Good Plus to Excellent.  21/bottle 18.90/mixed case 17.85/case
2012 Giacomo Vico Langhe Rosso:  Plums, strawberries cherries with gentle tannins and spicy overtones. Very Good Plus  16.99/bottle 15.29/mixed case 14.44/case
2015 Revelli Dogliani SuperioreSan Matteo:   Aromas of red berry and anise. Rich cherry fruit and almonds with chewy tannins and vibrant acidity.  Excellent  32/bottle 28.80/mixed case 27.20/case
2013 Dei Vino Nobile de Montepulciano:   Cherries, balsam and spice. Rich flavors with great balance and structure.  Medium bodied with a lonf finish.  Excellent  30/bottle 27/mixed case 25.50/case
2008 Casteluccio Ronco dei Ciliegi:  Dramatic aromas of rich berry and spice. Meaty and smoky overtones. Full bodied with silky tannins and fresh acidity.  Excellent  27/bottle 24.30/mixed case 22.95/case
Special 6/21 New Italian case: Two bottles of each of the above for a special price of $248
In store only-Special 6/21 New Italian pack: One bottle of each of the above for a special price of $131
&nbsp
Order by phone at 617.367.8605, or reserve here: Order@federalwine.com
- Peter Hemenway
(c) Federal Wine and Spirits Inc. 2017