Please note that the browser you are using is either outdated or not supported by this website. For a better browsing experience, try one of the following:
Michele Chiarlo Barolo Dinner
Wednesday October 17, 2018, 6:30pm, at Mamma Maria. Read on...
October 17, 2018
&nbsp
Michele Chiarlo Barolo Dinner
With Alberto Chiarlo
Wednesday October 17
6:30pm
Mamma Maria
3 North Square
Boston North End
TO RESERVE: peter@federalwine.com
Or call Federal Wine at 617 367 8605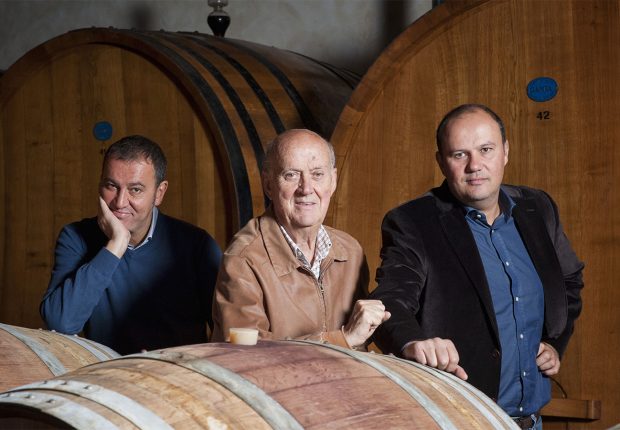 Alberto, Michele and Stefano
We are very happy to welcome Alberto Chiarlo to Boston and have him guide us at this dinner featuring the wines of Michele Chiarlo. Michele founded the estate back in the 50s and has been a true leader in Barolo production ever since. Along the way he has expanded the estate to include production in Gavi, Nizza and Barbaresco. Tonight, along with some amazing food, we will share five of these excellent wines.
Along the way the family has always displayed the utmost respect for the land and the products it produces. In addition they built an art park at La Court vineyard that is a stunning array of sculptures. Recently they also opened Palas Cerequio which is a beautiful small hotel and restaurant above the Cerequio vineyard.
As usual the menu will be decided closer to the event as Mamma Maria always creates their wonderful dishes with the freshest possible ingredients. Contact the restaurant if you have special dietary requirements. 617 523 0077
So join us for an evening of great wine and food, enjoy great company and meet Alberto. If you want to come, reserve early, these dinners regularly sell out.
Click on the email button below, email peter @federalwine.com or call the store 617 367 8605.
&nbsp
Appetizers: 2016 Gavi
First Course: 2013 Barbera La Court
Second Course: 2014 Barbaresco Reyna
Third Course: 2013 Barolo Cerequio
Dessert: 2016 Nivole Moscato
130/per person, tax and gratuity included
Peter Hemenway
&nbsp
&nbsp
&nbsp