Please note that the browser you are using is either outdated or not supported by this website. For a better browsing experience, try one of the following:
This Week's Tasting
January Red Bargains 
January 18, 2017
One of our better suppliers is moving their warehouse and held a fire sale tasting to deacquisition some wines they do not want to move. I selected  six reds that I think are great values at our reduced prices. They fall into two style camps: Reliable Concept Wines, and Adventuresome European Reds.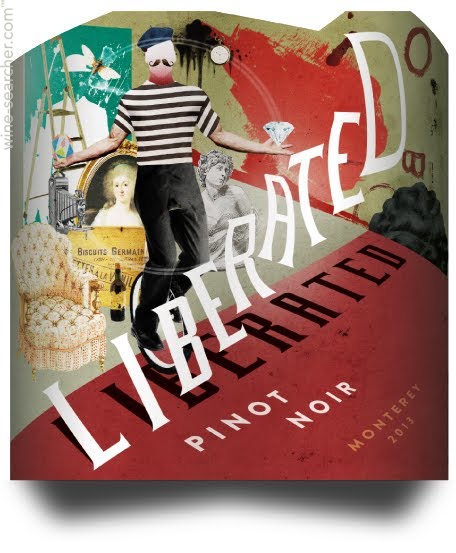 For best results, avert your eyes while drinking
Reliable Concept Wines
Wine producers like to exercise their creativity  by coming out with wines they call "concept", sometimes even "high concept." My best guess is  that concept has something to do with an artful graphics and/or clever verbiage on the back label, Modesto aspiring to Brooklyn. It is certain that high concept is worth at least an extra $10 in bottle price.
Prior to their moving our distributor found themselves graced with  lots of brightly labeled wines, some of which I found well worth our reduced prices.
You can skip the prose morass on the back of the Liberated wines. It is aimed at the Me Me Me Me Millennial generation. Their web site invites the reader to flatter his or herself by donning one or another 'Liberated' avatar; inventor, urban dweller, adventurer etc. to experience one of their wines, descriptions focussed on the roles, not the wines.
Too bad, for under the paper and inside the glass there are some nice little wines well worth our prices. I liked two of their six, a pretty, lighter bodied Monterey Pinot Noir and a spritely fresh Sonoma Cabernet, which tastes like it has some premium Alexander  Valley fruit blended in. Both are solid pleasing, easy drinking examples of their grape and region.
2013 Liberated Pinot Noir Monterey Very Good  10.99; Mixed Case, 9.89; Case, 9.34
2012 Liberated Cabernet Sauvignon Sonoma Very Good  10.99; Mixed Case, 9.89; Case, 9.34
2012 Juxtapoz is a blend of Syrah, Zinfandel, Petite Sirah, Malbec and Cabernet Sauvignon, with three quarters  from from Napa Valley. Take way the twin artistries of the label and the cleverly substituted Z, there is still the art of of a knowing blender. To my palate its Cabernet and  Petite Sirah stand out in a solid mellowed and proportionate blend.
2012 Juxtapoz North Coast Very Good Plus  Was $27, Now 19.99; Mixed Case, 17.99; Case, 16.99
Then there are the more adventuresome European Reds...
Sweet, Mellow Rioja
What can I say? mild and mellow , perfectly mature tempranillo, from a small farm  pretty younger vines all Temprnaill estate grown in the higher altitude Rioja Alavesa
2011 Finca San Martin Riohja Crianza Was 15.99, now 13.99; Mixed Case, 12.59; Case, 11.89
An Ancient Wine from The Middle of Nowhere
The Massif Centrale, is the remnants of a an ancient matrix of volcanic activity between Languedoc and Bordeaux in southern France It is as nowhere as you can be in France with scrub vegetation relieved only by the occasional brightly painted fiberglass dinosaur, more incongruous  here in what was more like their native habitat than they were on Rte 1 , from which sadly they are going extinct.
I digress. The volcanoes left the same sort of ashy tint to the soil and the wines that you get on Mt Etna  and also  the name of the winery and wine, Mas (Farm) des Volques (volcanoes) Volcae (ditto in Latin). 
Robert Parker: "This is a side project of Clos St. Jean's oenologist, Nicolas Souchon. A blend of 40% Syrah, 30% Grenache and 30% Carignan, the 2012 Volcae IGP Duche d'Uzes-Cevennes displays rustic, beefy, animal-like notes intermixed with black raspberry and black cherry fruit. With fresh acids, medium body, and an elegant, Pinot Noir-like personality, this easy-going, finesse-styled 2012 can be enjoyed over the next several years."
Mas des Volques Volcae Very Good Plus Was $23, Now 16.99; Mixed Case, 15.29; Case, 14.44
2014 Clos Troteligotte K Pot' Cahors - Malbec without protection
No.... "Without protection" doesn't mean that. It is sulfur that protects wine. Of course, sulfur's antibacterial qualities come at a price. Some people are allergic, and sulphur puts a lid on the flavor and texture of a wine. I tried this next to a wine that the maker considers to be a step up,. It had a fresh pillowy lushness  that the 'better' wine did not. A simple sensuous  pleasure.
Two caveats though. To you allergics, low sulfur does not mean no sulfur. No wine is sulfur-free. Some comes up naturally from the soil.  Also, this is not a wine to lay down, particularly if you can not store at  low temperature. Low sulfite wines are less stable. This is a pleasure to drink now, but don't save it.
2014 Clos Troteligotte K Pot' Cahors - Malbec without protection Organic Very Good Plus  Was $21 now 16.99  7 cases only
&nbsp
1/18 Bargain Case: Special, two each of the above wines - $154
Instore only 1/18 Bargain Pack: Special, one each of the above wines - $81
1/18 Concept Case 4 each of the California wines  $144
1/18 European Case 4 each of the Spanish & French wines  $164
&nbsp
Order by phone at 617.367.8605, or reserve here: Order@federalwine.com
- Len Rothenberg
(c) Federal Wine and Spirits Inc. 2017