Please note that the browser you are using is either outdated or not supported by this website. For a better browsing experience, try one of the following:
This Week's Tasting
Italy: North Meets South
July 11, 2018
Peter writes, "This week we have three wines from Sicily and three wines from Piedmont, all between 20 and 30 dollars a bottle. We hope to find out if there are differences or similarities in style between the two groups.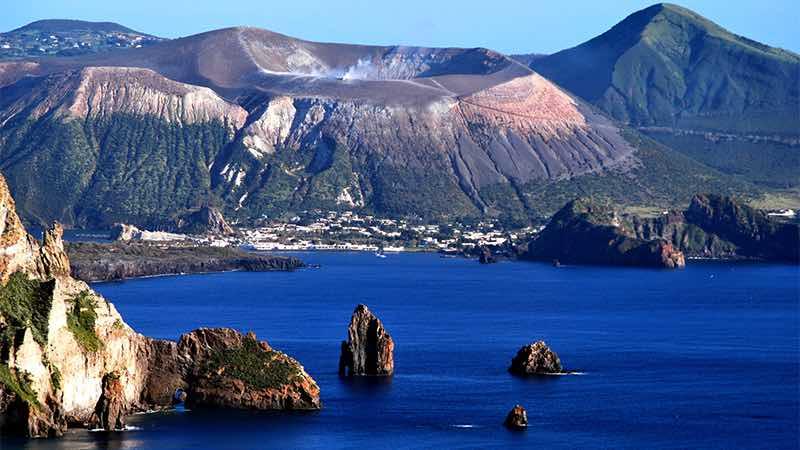 Lipari: there's grapes in them thar hills
He continues,
We also hope to showcase the quality of these wines and the fact that you could only find this kind of variety in Italy. And just for good measure two of the wines in the tasting are unique.
The first white will be the 2017 Tasca d'Almerita Mozia Grillo Whitaker. This is made from vineyards on the island of Mozia off the western coast of Sicily. Grillo is one of Sicily's best white varieties and because of the position on Mozia this one has a generous addition of salinity in the aromas and flavors. Ed R says that this wine is good for the entire range of seafood, from anchovies to tuna and everything in between. The second white is from a vineyard in Monforte d'Alba in Piedmont. The 2015 Manzone Rossese Bianco Rossertois a unique wine because pretty much nobody else grows the Rossese Bianco variety. Orange peel and cedar aromas and a rich melon flavor are this grape's signature. It ages well. White meat and elaborate seafood dishes are the ticket here.
The first red will be the 2015 Sottimano Barbera d'Alba Pairolero. This wine is a blend of two vineyards in Neive. Barbera, of course, is an important variety for most producers in Piedmont. The good ones go with a wide variety of foods. The profile is rich plum fruit, moderate tannin and generous balancing acidity. The Sottimanos are simply one of the best producers in Barbaresco. Then we will go back down to Sicily to the area of Mount Etna. The Tornatore family has been growing grapes on the special volcanic soil of Mount Etna for generations. Today Francesco runs the farm and winery. The 2016Tornatore Etna Rossois a wine that shows both the power and elegance of Nerello Mascalese grapes. Cherries, spice and structure are all in good balance. We will let this one breathe.
Speaking of the best producers in Barbaresco, Giorgio Pelissero certainly belongs to the club. He is also erudite and entertaining. The 2015 Pelissero Langhe Nebbiolois mostly made from his vineyards in Treiso. The wine is from a great vintage and shows all the Nebbiolo fruit, nuance and spice. Now, ordinarily I would not follow a Nebbiolo with any other type of wine. This time however, we have one of the few exceptions. The 2015 Caravaglio Nero di Muntiis a unique wine made from grapes grown inside the caldera of the volcano that is the island of Lipari. Antonio Caravaglio is the last artisan to continue the tradition of growing the Corinto Nero grape. The family has been doing this organically for more than 500 years. The wine, made from pre-phylloxera vines that are up to 150 years old, is unique and intense.
&nbsp
White
2017 Tasca d'Almerita Mozia Grillo Whitaker: Straw with green highlights. Pear and honeydew with notes of lemongrass, anise, and white pepper all framed in a bright balanced salinity. Very Good toExcellent 24.00/bottle 21.60/mixed case 20.40/case
2015 Manzone Rossese Bianco Rosserto: Straw yellow. Deep melon and peach flavors highlighted by orange peel, cedar, broom flowers and a fresh balsamic note. Persistent finish. Very Good toExcellent 29/bottle 26.10/mixed case 24.65/case
Red
2015 Sottimano Barbera d'Alba Pairolero: Deep red, Plum and raspberry fruit. Notes of flint and spice and balanced acidity, deeply flavored long finish. Very Good to Excellent 24/bottle 21.60/mixed case 20.40/case
2016 Tornatore Etna Rosso: Light bright ruby. Cherries, asian spice and tobacco with deep flavor and structure. Complex and balanced. Very Good to Excellent 27/bottle 24.30/mixed case 22.95/case
2015 Pelissero Langhe Nebbiolo: Bright ruby. Floral and spicy with dark cherries and licorice. Fresh flavors and a persistent balanced finish. Very Good to Excellent 23/bottle 20.70/mixed case 19.55/case
2015 Caravaglio Nero di Munti: Deep ruby red. Explosive aromas of dark berries, roses and smoke. Aromas and flavors dance around like a Munchausen adventure and come together in the long finish. Excellent 28/bottle 25.20/mixed case 23.80/case
&nbsp
In store only- North meets South pack: One bottle of each of the above for a special price of $139.50
North meets South case: Two bottles of each of the above for a special price of $263.50
Or you can mix
Any six - 11 bottles of the above for a 10% discount
Any twelve bottles of the above for a 15% discount
&nbsp
Order by phone at 617.367.8605, or reserve here: peter@federalwine.com
&nbsp
Please pass this on to any friends who are wine enthusiasts!
&nbsp
- Peter Hemenway