Please note that the browser you are using is either outdated or not supported by this website. For a better browsing experience, try one of the following:
This Week's Tasting
Fine Wines, Everyday Prices
October 17, 2018
You don't have to spend a lot to have a touch of elegance at your weekday table or large gathering. Tonight six fall wines that won't break the bank.
&nbsp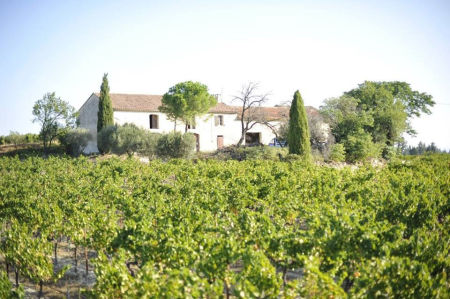 Clos St. Antonin
&nbsp
2016 French whites are more vibrant than the 2015s and livelier and more ingratiating than the 2014s. This week's two whites are perfect illustrations.
Manciat Poncet's 2016 Macon-Charnay Les Chenes may be their best yet. It is richly fruity, vibrant and seductive with lots of depth. A very satisfying $17 wine.
Isabelle Sabon, of the famous Domaine Janasse is proprietor of the Clos St. Antonin. She dared to do something very un Rhone-like, making a wine with the breadth of barrel-fermented Chardonnay spiced with lively herbaceous traditional Rhone Clairette and Bourboulenc. The result, according to the Wine Advocate "plump, honeyed and round, with ample weight on the palate and appealing pear and citrus flavors." It is delicious.
Mary Taylor 's experience in France has given her an intuitive sensibility. We really like the Bordeauxmade at her direction at a coop there. Half Merlot, a quarter each Cabernet Sauvignon and Cabernet Franc, it's at the same time expressive of its origin and sleek, supple and and smooth, a very modern red Bordeaux.
Cabernet Franc is a great grape that can show an aristocratic breed and character, but in unskilled hands it can be stiff or on the other hand foppishly soft. Argentine brothers Hector and Pablo Durigutti have a talent for the grape. Their 2016 Aguijon de Abeja Cabernet Franc has an iron spine in a velvet body. Supple, smooth, and sophisticated, it makes a perfect counterpoint to meats from Monday burgers to steak a poivre.
The 2014 Roth Estate Sonoma Pinot Noir is fall-weight; big, hearty and chunky with lots of deep plum fruit and the very solid structure one expects from Sonoma Coast Pinot. If you travel to the winery you would pay $28. We can deliver it to you for 16.99, 14.44 by the case. Don't pass it up.
Isabel Sabon's 2016 Clos St. Antonin Cotes du Rhone is more conventional than her white, but just as delicious. 80% Grenache, 10% Mourvèdre and 10% Syrah, it has already gained praise on both sides of the Atlantic. Wine Advocate: "Ripe, mouthwatering and fresh, this medium to full-bodied wine delivers juicy plum and black cherry fruit underscored by softly dusty tannins. It should drink well for up to 5 years."
France's Guide Hachette call it "very successful" and "very pleasant all the way through the mouth, due to its sustained fruit, its supple freshness." Pretty good for $15, we think.
Fine Weekday Wines
White
2016 Manciat Poncet Macon-Charnay Les Chenes; Aroma: sweet rich very intense, rich very dense, green apple & mineral; Mouth: dense sweet v very clean rich, fullish, spicy fruit, good length, sticks to the tongue; Very Good Plus 16.99; Mixed Case, 15.29; Case, 14.44
2016 Clos St Antonin Principaute d'Orange; Aroma: Very pretty & fragrant, light Provencal spice; Mouth: Cleaning nicely firm, pretty fine acid very ripe with a piquant herbal gloss over the broad chardonnay fruit; Very Good Plus 17.99; Mixed Case, 16.19; Case, 15.29
Red
2015 Mary Taylor Bordeaux Rouge (Bordeaux); Color: light red; Aroma: light pretty rather fresh, clean, modern fruit, precise, lightly herbaceousness, ripe cherry & fresh; Mouth: clean & pretty, lightly clean tight firm, , pretty fine, long herbal, direct; Very Good Plus 13.99; Mixed Case, 12.59; Case, 11.89
2016 Clos St. Antonin Cotes du Rhone; Aroma: fresh spicy clean, nice intensity, light in affect; Mouth: juicy rather forward, clean bright fruit, intense forward, lively juicy; Very Good Plus 14.99; Mixed Case, 13.49; Case, 12.74
2014 Roth Estate Pinot Noir Sonoma; Aroma: lightly herbal rather clean, sharp & mellow; Mouth: juicy sweet clean nice acid, fine tannin a big finish; Very Good 16.99; Mixed Case, 15.29; Case, 14.44
2016 Aguijon de Abeja Cabernet Franc- Organic; Color: very dark, purple, ; Aroma: lightly, pretty, rather herbal, nutty, clean; Very Good Plus 16.99; Mixed Case, 15.29; Case, 14.44
&nbsp
Fine Weekday Case: Special, two each of the above wines - $167 (13.91)
Instore only Fine Weekday Pack: Special, one each of the above wines - $89ˆ
Any six - 11 bottles of the above for a 10% discount
Any twelve bottles of the above for a 15% discount
&nbsp
Order by phone at 617.367.8605, or reserve here: order@federalwine.com
&nbsp
Please pass this on to any friends who are wine enthusiasts!
&nbsp
- Len Rothenberg