Please note that the browser you are using is either outdated or not supported by this website. For a better browsing experience, try one of the following:
Bargains in Rich Southern Reds in two fine vintages
2015 Andre Brunel Chateauneuf du Pape, 2016 Clos Mont Olivet Cotes du Rhone & 2016 Domaine Lascaux Pic St. Loup Carra
February 16, 2019
&nbsp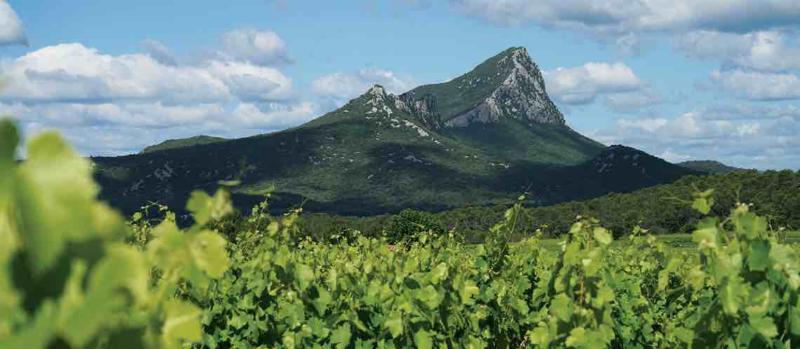 Pic St. Loup
A new vintage on the way, and a split in the family estate created opportunities for us to get some fine reds from fine vintagesat greatly reduced prices. We were not able to get very much. At these prices we expect these wines to go as fast as people snapped up the Montes Malbec earlier this week.
&nbsp
The Best Chateauneuf du Pape at the Lowest Price We've Seen
&nbsp
The Revue du Vin de FrancecallsAndre Brunel "one of the elite of the Chateauneuf du Pape appellation," praising him for his "racy wines where refinement and minerality are the strengths of his style." Famous for his Les Cailloux estate wine, he also makes a small cuvee of wine from purchased grapes. Similarly styled to the estate wine, it is made to drink sooner. The 2015 , like others the vintage is big and brooding and will repay some cellaring. I plan to do that myself.
2015 Andre Brunel Chateauneuf du Pape; Color: medium dark deep; Aroma: heady and bright deep blueberry notes, a touch of leather and garrigue; Mouth: deep dark plummy fruit, great depth, fine acidity nice concentration at good weight, still young and a bit reserved with long spicy fruit finish;Very Good - Excellent Was $45 Now $35; 29.75 by the case of 12 6 cases only
&nbsp
Delicious Cotes du Rhone from a Top Chatauneuf du Pape Estate
&nbsp
The RVFranks Clos Mont Olivet along with Rayas as the acme of Chateauneuf. The Mont Olivet Cotes du Rhone has always been their affordable wine, for drinking in the near term. From two old vine parcels north of Chateauneuf, it has much of the old vines garrigue character of Chateauneuf. The 2016 is simply delicious. But the estate is being split and the current importer will not have the Cotes du Rhone anymore, so he is closing out his stock. For us it was love at first taste, a perfect balance of depth, spice and richness, now at a reduced price.
2016 Clos du Mont Olivet Sabon Cotes du RhoneVieilles Vignes; Color: medium dark; Aroma: heady and herbal dense, spicy, herbaceous; Mouth: semisweet very dense low toned rich & herbal, fine granite line, clean long sweet dark notes long; Very Good Plus - Was 21 now 16.99; 13.99 by the case of 12 5 cases only
&nbsp
Pic is French for the Top; This Languedoc Is That
&nbsp
Languedoc is in ascendance. Using Rhone grapes, it is making wines better and with more character, particularly in upland regions with unique flavors informed by different soils than the Rhone. Domaine Lascaux, imported by Kermit Lynch, has been in the forefront of this upsurge. In my tastings their Pic St. Loup, a blend of more Syrah than Grenache, was the best of their recent offerings, a wine of freshness, purity, and finesse. This is wonderful value for the money especially at our reduced price.
2016 Ch. Lascaux Carra Pic St. Loup- Organic; Color: very dark, dense, pretty; Aroma: clean, fresh, pretty rather dense, rather full; Mouth: thick, & dark, dense, fullish, firm tannins; dark fruity, structured dense & citrusy; Very Good Plus- Was 21 now 16.99; 13.99 by the case of 12 5 cases only
&nbsp
Assort any 12 or more of these wines for their net case prices
&nbsp
Order by phone at 617.367.8605, or reserve here: order@federalwine.com
&nbsp
- Len Rothenberg
&nbsp