Please note that the browser you are using is either outdated or not supported by this website. For a better browsing experience, try one of the following:
2017 Hamilton Russell Pinot Noir
Subtle and Fine, to Savor Over Time
March 12, 2019
&nbsp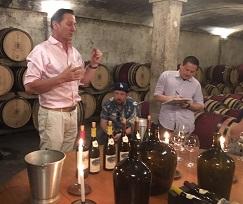 Hermanus, Western Cape
Over the twenty five years we have been offering Hamilton-Russell Pinot Noirs, they have become our customers' favorite fine Pinots, eclipsing demand from any from California, Oregon, or Burgundy. At first, they seemed a sort of burgundy for the masses, Pinots with with more nuance and personality than others that carried that region's character
Twenty eight years of making one grape in one site have given Anthony Hamilton-Russell the opportunity to fine tune vineyards, clones, sites and winemaking techniques so that his Pinots from the cool Hemel-en Aarde Valley have become recognized as sui generis fine Pinots, iconic in their own right.
At a tasting for a small group of American wine professionals in his cellar last week, Anthony was ebullient, despite the recent assault on his vineyards by a California-like wildfire and a drought induced reduction in yield in recent vintages. The Pinots in our glasses told why.
We sampled 2016. 2017 and 2018s, The 2016 , already virtually sold out, showed dark fruit, with a nice defining acid line that evoked Gevrey for many of the tasters. The recently bottled 2018 showed lots of intensity was was still in an awkward stage.
The group favorite was the 2017. it showed a keen fine acid line, refined tannin , with a focused fruit, and an elegance that outshone the others.
&nbsp
Two critics who focus on South African, both Masters of Wine, agreed:
&nbsp
'Continuing the subtle changes that have occurred under Emul Ross, the Hamilton Russell Pinot Noir is now a worthy stable mate for the estate's Chardonnay. This shows the acidity of the 2017 vintage, with a fine perfume of wild strawberry and dried mushroom, subtle wood and a dense, complex, savoury finish. 2019-27.' – Tim Atkin
&nbsp
"Already very showy, perfumed and quite generous on the nose with layers of sun dried cranberries, strawberry hours confit, logan berry, pomegranate and earthy red plum notes wafting uninhibitedly out the glass. Beyond the pretty aromatics lurk seductive notes of peppermint crisp, dark chocolate and subtle vanilla pod and wood spice. The palate is equally seductive, vibrant and bright on the entry with the most mouth watering complexity of sweet cranberry, blood orange, caramelised red cherries and delicate cherry cola vermouth botanical nuances. Impressively elegant and balanced, this wine is only just starting to blossom. Surely destined to be a real beauty. Drink now to 2030+"
&nbsp
2017 Hamilton-Russell Pinot Noir- Organic; Aroma: Plummy deep, rather fullish, tight acid steely, rounded acidity, elegant mineral notes; Mouth: Rather fine elegant tight sweet fruit, lean, composed flesh, deep, rather tight firm, rich, resilient; to age 2 - 15 years; Excellent 50. Special Case of 6 $239. (39.83)
&nbsp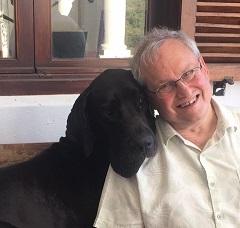 Bonding with Roderick, who really runs the Hamilton Russell
&nbsp
Order by phone at 617.367.8605, or reserve here: order@federalwine.com
&nbsp
- Len Rothenberg
&nbsp