Please note that the browser you are using is either outdated or not supported by this website. For a better browsing experience, try one of the following:
2015 Dievole Chianti Classico Vigne Sessina Gran Selezione
The Divine Valley
July 17, 2018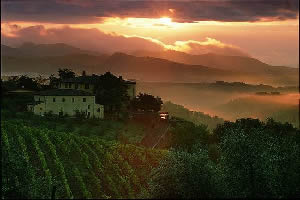 Dievole is one of my favorite properties in Tuscany and I have been visiting there every year since 1992. In that time there have been three different owners and five different winemakers. In the cellar there have been large oak casks, then barriques, and now fermentation in concrete and aging in large casks. However the wines have always been great. The only explanation is that it is this very special land that makes the wine.
They have just released the new 2015 Dievole Chianti Classico Vigne Sessina Gran Selezione. All of the grapes are from the Vigne Sessina vineyard which has a south, southwest exposure at an altitude of 420 meters. I actually helped plant this vineyard back in 1993. At that time Dievole was entirely staffed by the descendants of the original sixteen Etruscan families that founded the estate in 1090, well over 900 years ago. Also at that time the owner Mario said he thought this vineyard could become the Romanee Conti of Tuscany.
Well, however that may be, this is a truly great wine. The new owner Alejandro Bulcheroni has brought in Alberto Antonini as winemaker. Alberto began his career at his family's estate and was a proponent of a modern style that made softer, easier wines and used Merlot in the blend. After many years, he is now a strict traditionalist and is consequently making great wine. The 2015 Dievole ChiantiClassico Vigne Sessina Gran Selezioneis 100% Sangiovese made in a completely natural way.
2016 Dievole Chianti Classico Gran Selezione Vigne Sessina: Everything you would expect in great Sangiovese with cherries, violets and balsa with intriguing perfumed spice. What stands out is the layered texture of the palate and the long complex finish. The balance is perfect. Outstanding 68/bottle 347/six pack
WINE WILL ARRIVE IN TWO WEEKS
Order by phone at 617.367.8605, or reserve here: peter@federalwine.com
&nbsp
Please pass this on to any friends who are wine enthusiasts.
&nbsp
- Peter Hemenway
&nbsp