Please note that the browser you are using is either outdated or not supported by this website. For a better browsing experience, try one of the following:
Revisiting Valle Reale, Showing What "Terroir" Really Means
2017 Valle Reale Montepulciano d'Abruzzo Vigneto di Sant'Eusanio + 2015 Valle Reale Montepulciano d'Abruzzo Vigneto di Popoli
September 13, 2021
&nbsp
Free Delivery - see below
&nbsp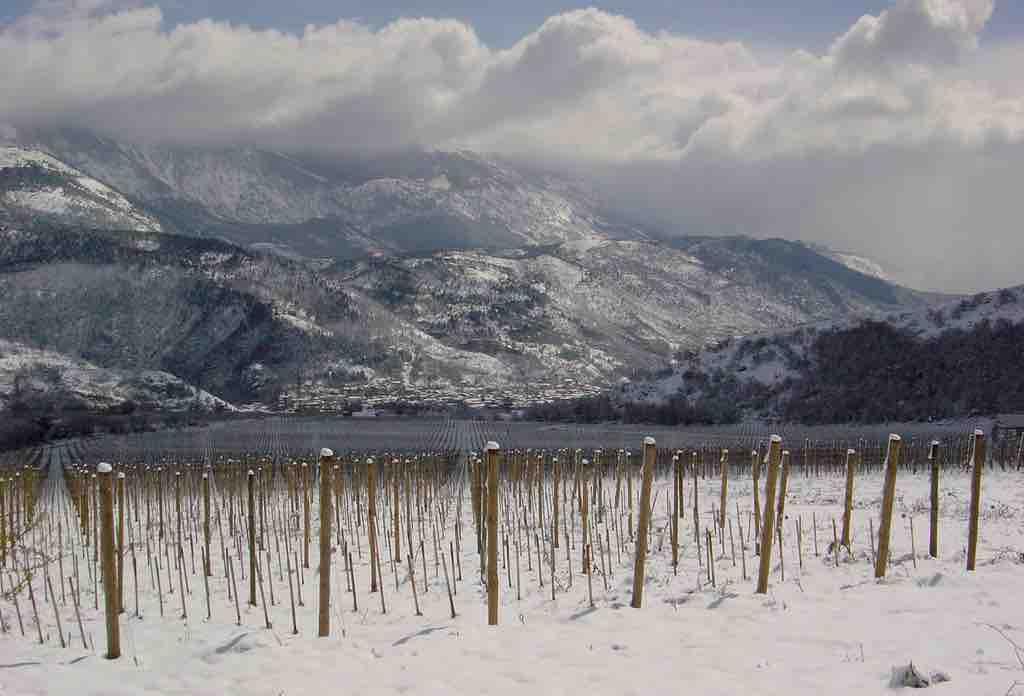 &nbsp
Everyone in the wine business and many people who just love wine are very interested in the concept of terroir. Leo Pizzolo, who owns Valle Reale in the mountains of Abruzzo, was happy to find out he could make wines to express terroir as good as anyone in the world.
Okay, first, you have the exposition and the elevation of the vineyards. Then you have the climate and the weather (the vintage year). Then you have the soil type and the ability of the vines to grow deep roots. Then you have the wild animals and birds and insects that live around the vines. The character and intensity of the wind come into play. The people who work the vines and make the wine are part of the terroir. Most important? The wild yeast settles on the grapes to create spontaneous fermentation.
At Valle Reale, the Vigneto di Popoli and the Vigneto di Sant'Eusanio are two different vineyards. Both are 100% Montepulciano grapes. Both have high elevation rocky soils. They are very close to each other. They are both organic and sustainable, and the winemaking is identical. Green harvesting and handpicking are the same. The two wines, however, are very different from each other.
Sant'Eusanio is surrounded by a pine forest and an olive grove. Popoli is surrounded by flowering bushes and an organic food garden. The wild yeasts that settle on the grapes are very different, and so are the wines. It is a fantastic experience to taste them side by side.
2017 was a more challenging vintage in Abruzzo than 2015. Valle Reale handled this with the appropriate measures, and the wine is fine.
2017 Valle Reale Montepulciano d'Abruzzo Vigneto di Sant'Eusanio: Bright ruby. Plum, blackberry, dark cherry with Mediterranean flowers, and balsamic herbs. Generous red fruit flavors on the palate. Long mineral, smooth and seamless finish with a subtle texture and balancing bright acidity. Excellent 21.99/bottle
2015 Valle Reale Montepulciano d'Abruzzo Vigneto di Popoli: Dark red and black fruits framed by balsam and Asian spice. Floral note accent and balanced tannic structure. Layered depth of flavor and a long finish. Great value. Excellent 21,99/bottle
&nbsp
Special mixed terroir case: six bottles of each of the above for a special price of $224 (18.66/bottle)
Special terroir Pack (in-store only): 3 bottles of each for a special price of $118 (19.66/bottle)
Wines are In stock
&nbsp
Order by phone at 617.367.8605, or reserve here: order@federalwine.com
&nbsp
- Peter Hemenway
&nbsp
---
&nbsp
FREE DELIVERY!
downtown on orders more than $75;
in Greater Boston on orders more than $175
&nbsp