Please note that the browser you are using is either outdated or not supported by this website. For a better browsing experience, try one of the following:
The UnSancerre Sancerre Rose
2018 Domaine Henry Pellé Menetou-Salon Morugues Rose of Pinot Noir
June 9, 2019
&nbsp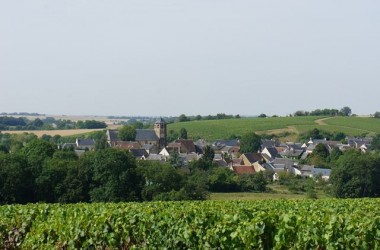 The best Sancerre Rose we tasted this year doesn't come from Sancerre.
Its grapes were grown 20 minutes to the west in the town of Morogues which has some of the best terroirs of the less-known Menetou-Salon appellation. There the roses are 100% Pinot Noir like their more famous brothers in Sancerre .
Paul-Henry Pellé is the outstanding vigneron there. The Revue du Vin de France calls him "an exacting winegrower who never stops refining his work in vineyard and cellar, and for the last ten years has been fully committed to seeking out the best maturities and variations in terroir."
In the extremely ripe 2018 vintage he did exactly that. He got his fruit fruit maturity that gave it a poise between freshness and fruit that eluded many of his peers in Sancerre. The 2018 Domaine Henry Pellé Menetou-Salon Morugues Rose is not thick fruit juice, but clear savory Pinot Noir, on the cusp of terroir and fruit, lively on both nose and palate.
It is both fine and satisfying.
But there's more; its price, not $20 - $30 like most Sancerre Roses, but 16.99, 14.44 by the case. You can drink it everyday, by itself or with chicken salad or salmon on the grill
&nbsp
2018 Domaine Henry Pellé Menetou-Salon Morugues Rose of Pinot Noir; Aroma: sweet rather fine acidity, pungent, light but deep-noted fruit, pungent and caressing; Mouth: juicy rich & fleshy, fresh, fullish with a deep raspberry-plum middle, a crisp finishing note; Very Good Plus 16.99; Mixed Case, 15.29; Case, 14.44
&nbsp
arrives Tuesday
&nbsp
Order by phone at 617.367.8605, or reserve here: order@federalwine.com
&nbsp
- Len Rothenberg
&nbsp