Please note that the browser you are using is either outdated or not supported by this website. For a better browsing experience, try one of the following:
2020 Agricola Reale Aliseo + 2018 Agricola Reale Cardamone + 2015 Agricola Reale Borgo di Gete
Heaven on Earth
March 1, 2022
&nbsp
Free Delivery - see below
&nbsp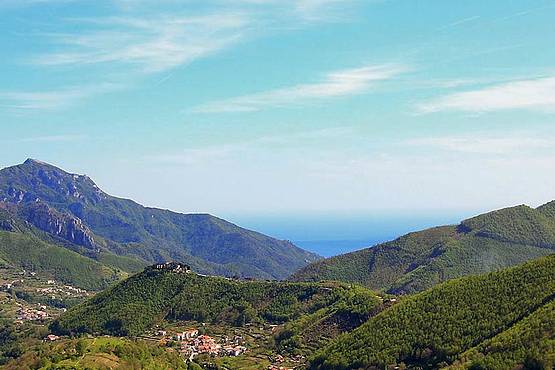 Tramonti
&nbsp
Today I'm offering some great, rare, and unique wines from the Amalfi coast from brothers Gigino and Gaetano Reale. To best enjoy them, do this:
First, go to theret and take in the amazing beauty of the landscape. Drive up to the top of the mountains to the village of Tramonti. Once again, take in its amazing beauty. You might notice the free-standing century-old prephylloxera grapevines taller than you. Check into the Agricola Reale B&B. Eat some of the most fabulous food and drink some of the most outstanding wine on the planet.
Come back here and buy some wine. 2020 Agricola Reale Aliseo is a blend of three native white Campanian grapes, including Falanghina. The wine is fragrant with beautiful floating flavors. The red is the 2018 Agricola Reale Cardamone which is a blend of Piedirosso (native to Mount Vesuvius) and Tintore (native to Tramonti). It's richly flavored with outstanding balance and a clear note of black pepper.
The brothers also make a Riserva level wine. The 2015 Agricola Borgo di Gete is 100% Tintore. The age of the vines and the character of Tintore give this wine incredible texture. When Seth worked here, he got to taste the best wines in the store, including high-end Bordeaux Rhone and Burgundy, Brunello and Barolo. He said the Borgo di Gete was his favorite wine in the store because of the layers and layers of texture and the perfectly balanced complexity.
These are all r low production wines. The brothers only make 200 six-packs of the Borgo di Gete. We get most of what comes to this country.
&nbsp
&nbsp
2020 Agricola Reale Aliseo
: Aromas like walking into a large flower garden and orchard. The texture is bright with crisp acidity. Flavor wraps around your palate in the long finish.
Excellent
26/bottle (23.40/bottle) (22/bottle)
&nbsp
&nbsp
2018 Agricola Reale Cardamone
: Deep ruby. Dark and red fruits with violet and olive blossom. Clear notes of black pepper with a complex, rich finish.
Excellent
26/bottle (23.40/bottle) 22.00/bottle)
2015 Agricola Borgo di Gete: Deep brooding ruby. Layers and layers of aromas and flavors. Like climbing a mountain with new vistas and aromas around every corner. The fruit and acid components are deep and complex, with an amazing layered texture. Outstanding 56/bottle (50/bottle) (47.60/bottle)
&nbsp
Special six-pack: Any six bottles get a 10% discount as above
Special case: any 12 bottles get a 15% discount as above
&nbsp
Order by phone at 617.367.8605, or reserve here: order@federalwine.com
&nbsp
- Peter Hemenway
&nbsp
---
&nbsp
FREE DELIVERY!
downtown on orders more than $75;
in Greater Boston on orders more than $175
&nbsp