Please note that the browser you are using is either outdated or not supported by this website. For a better browsing experience, try one of the following:
Domaine Karanika Extra Brut Cuvee Rose + 2018 Melitzana Naoussa Xinomavro
"Champagne" and "Barolo" From Greece
March 8, 2022
&nbsp
Free Delivery - see below
&nbsp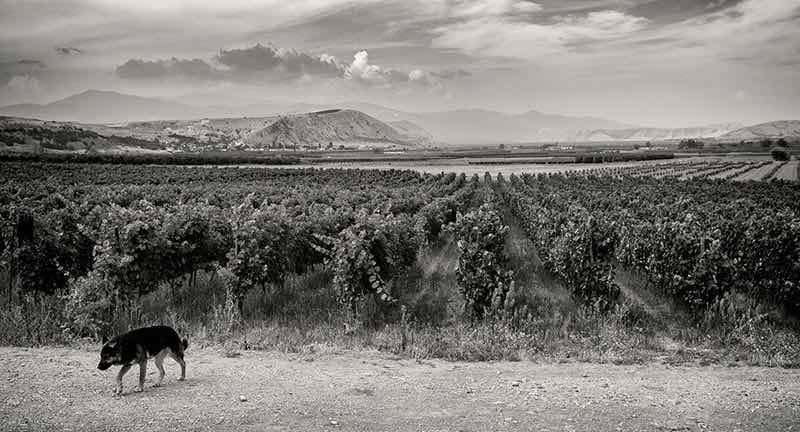 &nbsp
They have been making great wine in Greece for millenniums. We will feature two wonderful selections from Macedonia in Greece's mountainous northwest. Both wines are made with the legendary Xinomavro grape variety.
On the Amyndeon plateau, we find Domain Karanika. Laurens Karanika and his wife Annette dedicate themselves to producing natural wines. All they do is provide gentle guidance for the wines to make themselves. One of their true passions is producing sparkling wine made with the red Xinomavro grape. Turns out this is just as good as making Champagne with Pinot Noir. The Domaine Karanika Extra Brut Cuvee Rose blew me away. I agree with Evan Turner of Wine and Spirits:
"It's lean to the bone, and that lets the floral parts and dried citrus notes shine through along with the strawberry and cranberry fruit. Line it up, next to Champagne or anything sparkling. I'd put it up against whatever you got."
The Melitzani winery is in Naoussa, an area famous for Xinomavro, which is often compared to Nebbiolo. The wines are dry with complex tannins and acidity. They age very well. The 2018 Melitzana Naoussa Xinomavro is a real discovery for those who like powerful and elegant dry reds. The difference is that you can get this for a lot less money than Barolo.
&nbsp
Domaine Karanika Extra Brut Cuvee Rose: Amazing balance of fruit and flowers with persistent grip from zero dosage. The rose color is bright and beautiful. This one has it all going on. Excellent 32/bottle Special six pack:$173.94 (28.99/bottle)
2018 Melitzana Naoussa Xinomavro: Bright ruby with transparency. Will fade to garnet with age. Violets and roses frame deep cherry fruit and spice. Great balance of tannins and acidity in a long rich finish. Excellent 29/bottle Special six-pack $161.94 (26.99/bottle)
&nbsp
Special mixed case: 6 bottles of each of the above for a special price of $311.10 (25.92/bottle)
Wines will arrive later this week
&nbsp
Order by phone at 617.367.8605, or reserve here: order@federalwine.com
&nbsp
- Peter Hemenway
&nbsp
---
&nbsp
FREE DELIVERY!
downtown on orders more than $75;
in Greater Boston on orders more than $199
&nbsp