Please note that the browser you are using is either outdated or not supported by this website. For a better browsing experience, try one of the following:
This Week's Tasting
St. Supery Napa Valley Estate Returns
August 16, 2017
Napa Valley's St. Supery  estate used to be a fixture at this store, but dropped off our radar a few years ago. The buzz is that the winery is making a comeback, so we are happy to welcome the winery's Tod Umbach who will lead us through a tour of the current St. Supery offerings.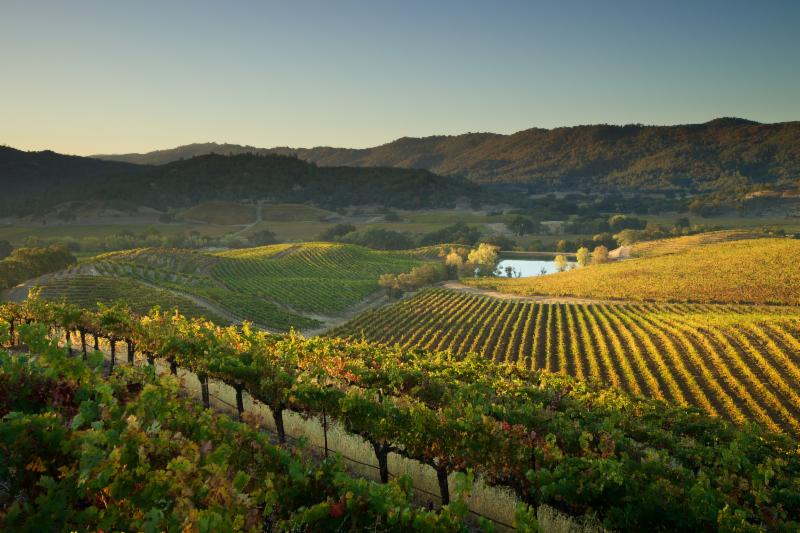 Dollarhide Ranch
St. Supery wines are all sustainably farmed estates, principally from two vineyard areas: Their prized Dollarhide Ranch at higher elevations east of St. Helena, and some properties in Rutherford on the Napa Bench. Their wines are made to be lush and full on the mouth,  in a very accessible style suitable for nearer term drinking.
We'll start with the their 2016 Napa Valley Estate Oak Free Chardonnay, which comes from Dollarhide estate. From a perfect growing season, it is poised and pleasant with easy summer drinking.
Then two Sauvignon Blancs. The 2016 Napa Valley Estate Sauvignon Blanc from the Dollarhide Estate , it's unoaked for early drinking with accents of fresh lime. The 2015 Sauvignon Blanc, Dollarhide is a reserve bottling for more serious drinking, aged 7 months on its lees in French oak, a fifth new. 
We'll have three reds.
There are two Cabernets. The 2014 Napa Cabernet Sauvignon a blend of 81% Cabernet Sauvignon and the rest Petit Verdot, Malbec, Merlot and Cabernet Franc. It was aged 19 months in one-third new French oak.   The St Supery, Cabernet Sauvignon, Dollarhide Vineyard is all cabernet aged in 2/3 new French oak.
The 2013 St Supery, Elu Meritage Red comes from both Dollarhide and Rutherford and is St. Supery's take on Bordeaux: 65% Cabernet Sauvignon, 22% Merlot, 9% Malbec, 2% Cabernet Franc, 2% Petit Verdot
&nbsp
2016 Napa Valley Estate Oak Free Chardonnay Nose dried apricot, cantaloupe and pear mixed with a hint of orange marmalade. Mouth: Asian pear, nectarine and apricot crisp finish 21; Mixed Case, 18.9; Case, 17.85
2016 Napa Valley Estate Sauvignon Blanc 21; Mixed Case, 18.9; Case, 17.85
2015 Sauvignon Blanc, Dollarhide Vineyard Robert Parker "subtle smokiness, ripe fig, delicate honeysuckle and caramelized citrus with a touch of grapefruit. The texture has a creaminess that is more reminiscent of Chardonnay. This medium-bodied, dry Sauvignon is excellent and best drunk over the next couple years." 
37; Mixed Case, 33.3; Case, 31.45
&nbsp
2014 Napa Cabernet Sauvignon  Robert Parker "a dense ruby/purple color, a classic Cabernet nose of pepper, licorice, a touch of toast, white chocolate, blackberry and cassis. Espresso bean emerges as the wine sits in the glass. It is medium to full-bodied, long, elegant, pure and best drunk over the next 15 or so years."  40; Mixed Case, 36; Case, 34
2012 Cabernet Sauvignon, Dollarhide Vineyard Robert Parker "An attractive, open-knit, spicy effort, the 2012 Cabernet Sauvignon Dollarhide Estate reveals hints of damp earth and loamy soil and tar undertones. This dark ruby/purple-colored, medium-bodied wine can be consumed over the next 7-8 years" 99; Mixed Case, 89.1; Case, 84.15
2013 Elu Meritage Red "Black currants with sweet tobacco as well as espresso undertones dominate the nose of this Bordeax blend. On the palate, this wine shows concentration, plenty of tannins and a finish with lots of dark fruits." 75; Mixed Case, 67.5; Case, 63.75
&nbsp
8/16 St Supery Case 3 each 2016 sauvignon blanc & chardonnay, 2 ea Dollarhide Sauvignon Blanc and 2014  Cabernet Napa, 1 each 2012  Cabernet Dollarhide and 2013  Elu Meritage $386
8/16 St Supery Pack, 1 each of the wines $264
&nbsp
Order by phone at 617.367.8605, or reserve here: Order@federalwine.com
- Len Rothenberg
(c) Federal Wine and Spirits Inc. 2017