Please note that the browser you are using is either outdated or not supported by this website. For a better browsing experience, try one of the following:
This Week's Tasting:
Ken Wright Pinot Noir
June 6, 2012
Even the best Willamette wineries do not take on the airs of their cousins in Napa Valley.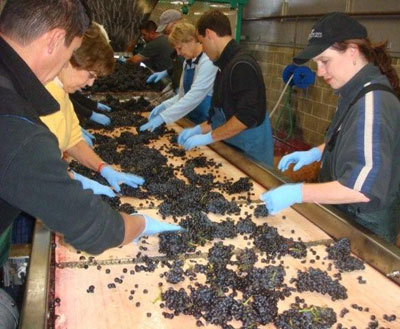 Sorting Grapes at Ken Wright
Most often they are smaller to boot, and one person often fills many roles. This week we are happy to welcome Asa Sarver, their sales director, except when he is needed to drive their tractor.
Ken Wright himself has become a Willamette Valley legend. In 1986 he founded Panther creek Winery and was its winemaker during its heyday through the early 90s. In 1994 he began his eponymous winery. It has been a reference point for Willamette Pinot Noir since.
Ken's philosophy is Burgundian to make single vineyard wines that express their soils aspect, and vintage., in all except the Chardonnay we will taste where he judged that two source are better than one. This tasting will be a fascinating look into the differences that region can make in Willamette Pinot Noir. I have listed each wine with its sub region and the qualities that the vineyard gives to the wine.
As the Pinot Noirs are young, I'm bringing an example of a mature one to try, a 2002 Ken Wright Pinot Noir Carter Vineyard.