Please note that the browser you are using is either outdated or not supported by this website. For a better browsing experience, try one of the following:
This Week's Tasting
Great Bargains from Spain
March 13, 2019
From the time I first had wine (don't ask) Spain had the reputation of being the place where you could source great value wines. Tonight we aim to find out if that is still true. We will taste one white and five reds.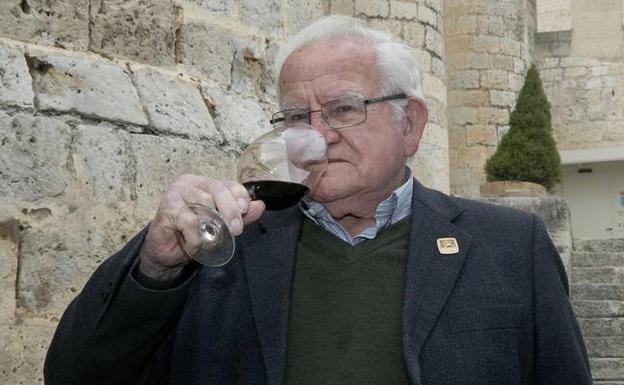 Ismael Arroyo sampling one of his stunning Ribera del Duero or Len's long lost Spanish brother?
&nbsp
The 2017 Gestoso Just B Albarino is produced in the Salnes Valley zone which has granitic soils and sea breezes off the Atlantic. The wine exhibits minerality and a touch of salinity and is great with seafood.
We will begin the reds with the 2015 El Coto Rioja Crianza. This is a traditional and artisan producer also dedicated to value. This is a great everyday drinking red wine with medium body a good versatility with food. Next we will go southeast to Valencia. The 2015 Mariluna Valencia is a blend of Tempranillo and Bobal. This medium bodied with rich flavors and we believe will knock you out for the price. The Penedes region is best known for sparkling wine but the 2015 Ferre I Catasus Penedes Cap De Trons is a pretty substantial dry red. This is a blend of French varieties-Syrah, Cabernet Sauvignon and Merlot.
Then over to Ribera del Duero. The 2013 Bodegas Iamael Arroyo Ribera del Duero Mesoneros de Castilla is 100% Tempranillo (Tinto del Pais) with vineyards on the highest plateau in the zone This wine is rich, complex and serious. We go back to Rioja Alta for the 2014 Marques de Murrieta Rioja Reserva. This is one of the oldest and most venerable producers in Rioja. It's a little above tonight's general price but Seth says it's a great value anyway. Classic.
2017 Gestoso Just B Albarino: Cool Atlantic character, good acidity with balsam, fruit and mineral notes. Aged on fine lees for three months. Will have good evolution for 3 to 4 years. Balanced finish. Very Good Plus Plus 17.99/bottle
2015 El Coto Rioja Crianza: Ruby. Cherries, touch of raspberry and notes of herbs. Medium bodied and balanced. Very Good Plus 14.99/bottle
2015 Mariluna Valencia: Bright ruby. Good depth of fruit with a spice note. Some complexity in the finish. Very Good Plus Plus 10.99/bottle
2017 Ferre I Catasus Penedes Cap de Trons: Brambly dark fruit with hints of coffee and pepper. Rich flavors and long finish. Very Good Plus Plus 15.99/bottle
2013 Bodegas Ismael Arroyo Ribera del Duero: Deep ruby. Complex spicy aromatics and rich complex flavors.Cherry, raspberry, herbs and jasmine. Long complex finish. Very Good Plus to Excellent 17.99/bottle
2014 Marques de Murrita Rioja Reserva: Deep earthy notes, balanced well with tart cherry and oaky tannin. long finish. Will drink best in 5-10 years. Very Good Plus-Excellent 24.99/bottle
Spanish Value Case: Special, two each of the above wines - $174
In-store only Spanish Value Pack: Special, one each of the above wines - $91
or
mix any 6- 11 wines for 10% off
any 12 or more for 15% off
Order by phone at 617.367.8605, or reserve here: order@federalwine.com
Please pass this on to any friends who are wine enthusiasts!
&nbsp
- Len Rothenberg